Bagels are one of those things for me. I once woke up on vacation in New Jersey (after a red-eye flight from Montana) to someone knocking at the door. It was the next door neighbor, Jerry, he had gone to the best bagel shop in Teaneck, New Jersey early that morning and bought an extra dozen bagels as a gift to us on our vacation at my wife's sister's house. I was over the moon. He knew that would make my trip something special and it did. Fresh bagels with their thin crispy outer skin and toasted seeds perfectly contrast against the interior's warm malty chewiness. The outside makes the inside even more perfect. The smell alone is worth the work of making them at home. So lets do it.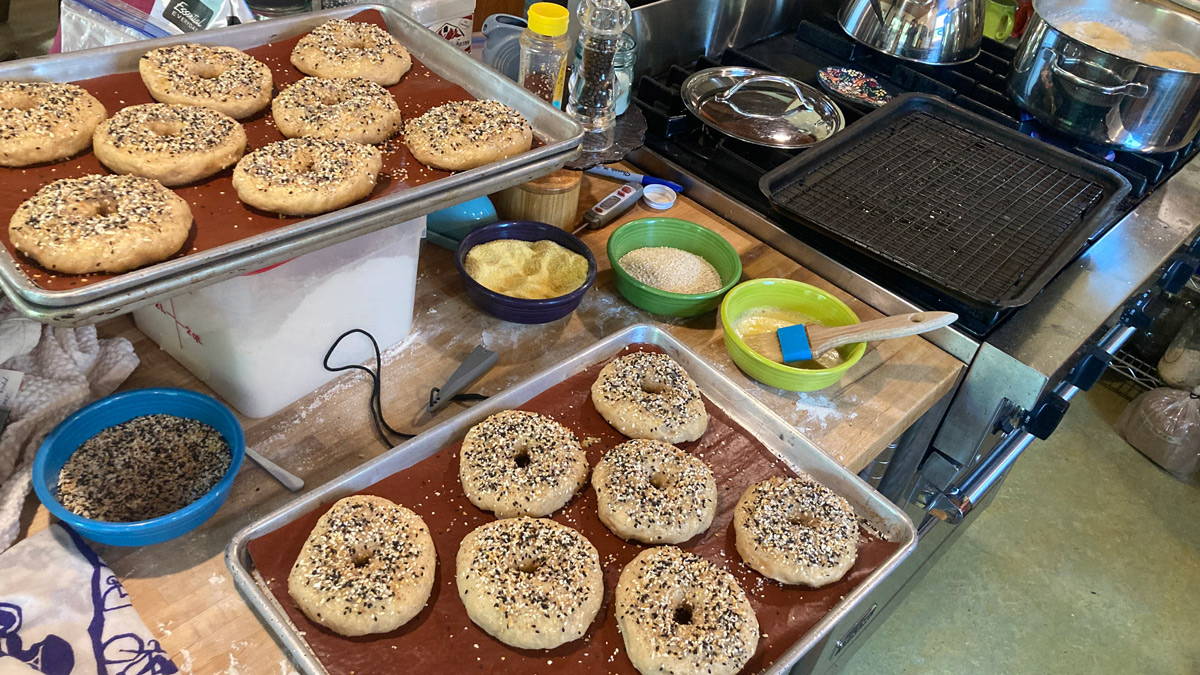 INGREDIENTS
Dough
200g ripe starter
475 g warm water
30g barley malt syrup
30g cane sugar
18g salt
8g diastatic malt
870g high protein flour
INSTRUCTIONS
I start getting ready two days before bake time by getting my starter fueled with more flour and water so that I can have 220 g of starter ready in the morning before mixing and shaping. I double my normal feeding by mixing 20 g starter, 100 g of flour, and 100 grams of water. This will rise over night and be ripe and ready at 8am.
Mix
The day before you are wanting to eat, use a large bowl, and combine the warm water with the starter, then add in the malt syrup, sugar, salt and diastatic malt. Stir until you've got a smooth consistent liquid. Then add in the high protein bread flour. Mix and knead 5-10 minutes as the flour hydrates. Set in a warm (70-80°F) covered bowl to rise. Do a stretch and fold after one hour, then return to the covered bowl and continue bulk rise for two more hours.
Cut and Shape
Pull dough from bowl and cut & round 125g balls. This should give you a baker's dozen. See Mauritsio shape bagels. Shape by hand rolling and joining into a loop. Or use the 'pinch the ball' technique. Then lay onto corn meal and cover with a damp towel or other cover for final rise—another 2 hours. The bagels should be airy and full. Then store in the refrigerator covered, until bake time.
Boil & Bake
Use a large sauce pot or stock pot and boil water, at least enough to have 5 inches of water in the pot. No need to add anything more to the water. Preheat oven to 475°F. Put a steaming tray in the bottom of the oven, add lava rocks if you have them. Be sure to have tray of ice ready to add when you put the bagels into the oven. Then gently lift the bagels out of your dough trays and gently drop them into the boiling water. Boil on both sides for 45 seconds to a minute, a minute and a half to two minutes total. Lift out with a slotted spoon or ladel with holes. I let the bagels rest on a cooling rack over a cookie tray. Then as you empty the pot, add your next set of bagels into the pot. As they are boiling, you can put the bagels you just pulled out on to a baking sheet or tray with parchment. Now sprinkle with sesame seeds, poppy seeds, dried garlic, salt, dried onions, and or all of the above. Then, when you have a full tray, put them into the oven. And add the ice into the steam tray. Then shut the oven door and keep it shut for the first 10 minutes. This creates the steamy atmosphere that will allow the bagels to rise really well. After 10 minutes, remove the steam tray carefully and lower oven temp to 450°F. Continue to bake and rotate trays or individual bagels as needed for 5-10 minutes more, until the bagels are browing and done. Remove and place onto a cooling rack for 10 minutes to cool.
Shmear or Make a Sandwich
Slice the bagels in half, then shmear with cream cheese, top with lox, or make a bacon, egg & cheese sandwich. Toasting the bagels will crisp up the inside a little if that is what you like.
Read about the rise of the bagel on Spoon University.
---

by: Paul Adkins
Marketing & Brand Coordinator
Paul has been baking since he was a kid and bagels are one of his favorites. He married a girl from NYC - partly so he could get more bagels.