We are so happy to bring you new Organic foods grown as locally and sustainably as possible.
Regenerative Organic Powdered Sugar
Our Organic Powdered Sugar, also known as confectioners sugar, is milled in the USA using our EcoSocial Certified Regenerative Organic Cane Sugar from Brazil.
The sugar is grown and processed through the award-winning Green Cane Project, thought to be the world's largest Organic project, with nearly 20,000 hectares (49,421 acres) of land Certified Organic.
The mission of the Green Cane Project, which began in 1987, is to create an integrated, self-sustainable operation balancing a quality product with environmental and social commitment.
Established in 1946, the family-run company that produces our Regenerative Organic Powdered Sugar offers extensive free health, education, and housing programs, and profit sharing for its employees. Their commitment to offering fair wages, affordable health coverage, and a safe work environment puts them at the forefront of social sustainability.
Studies of the cane fields show increases in biodiversity, organic content of soil, drought and plague resistance, and groundwater quality and volume. All waste streams from production are recycled for soil-building programs or power generation.
We are proud to offer Organic Powdered Sugar sourced from the Green Cane Project!
Roasted & Salted Peanut Butter, Crunchy (and Creamy in Early December)
Our US-grown Organic peanuts are lightly roasted and then ground into butter, only adding a little salt - no added sugar or oil. This peanut butter is full of flavor.
Peanut butter is rich in heart-healthy fats and is a good source of protein, it can be a good option for vegetarians or those following a plant-based diet to incorporate into their diet in moderation.
Delicious with chocolate, carrots, celery, crackers, toast, in smoothies, dressings or in sweet or savory sauces and gravies.
Tierra Farm Cashews and Almonds: Now Available in 5 lb Bags
Discover the flavor of organic dry-roasted cashews and almonds from Tierra Farm in Upstate New York. These nuts are great for snacking, packed with nutrition and flavor!
Hummingbird is excited to have teamed up with Tierra Farm, to bring their deliciously seasoned, organic snacks to the West Coast. Like Hummingbird, Tierra Farm is an environmentally conscious, certified-organic manufacturer and distributor of dried fruits and nuts. They are located 20 miles south of Albany, New York.
Hummingbird Organic Snacks: New Trail Mixes
We've brought the best Organic Fruits, Seeds, Nuts and Chocolate from Oregon and beyond together in four new deliciously satisfying trail mix options. They are perfectly suited for climbing the Sisters Mountains or paddling the crystal clear McKenzie River, and are just as suited for a wholesome snack at home too... one that doesn't leave you feeling sleepy from too many carbohydrates.
We start with 'Oregon Trail' Mix made with Oregon grown Hazelnuts, Cranberries, Blueberries and Pumpkin Seeds. Next up we have our Awakened® Nut Trio, consisting of sprouted Almonds, Walnuts and Pecans. Then we have our Awakened® Pumpkin, Nut and Berry Mix with Awakened® Nuts—Almonds, Walnuts and Pecans, Awakened® Pumpkin Seeds, and our prized Oregon Cranberries. And finally, we have created our Dark Chocolate Tropical Blend combining island sweet, salty, crunchy, spicy, and creamy. Ingredients include: Organic Roasted & Salted Cashews, Organic Crystalized Ginger, Organic Dried Pineapple, and Organic 70% Dark Chocolate—made in Italy. Our Snacks are made in small batches to ensure freshness—in Eugene, Oregon.
Coconut Cream
Our 24% Organic Coconut Cream comes from coconut palm tree farms that use sustainable and organic agricultural methods, including intercropping to protect soil fertility and providing economic development and social service programs in the communities where the farms are located.
24% Organic Coconut Cream is ultra high temperature (UHT) processed and aseptically packed, to retain quality and freshness. Coconut cream of homogenous creamy/white color. Just as you would expect with high quality coconut cream, this is smooth, pourable, viscous liquid with no off flavor or aroma.
Organic Coconut cream is perfect for use in cooking and baking, vegan product manufacturing, and making beverages.
Wild Rice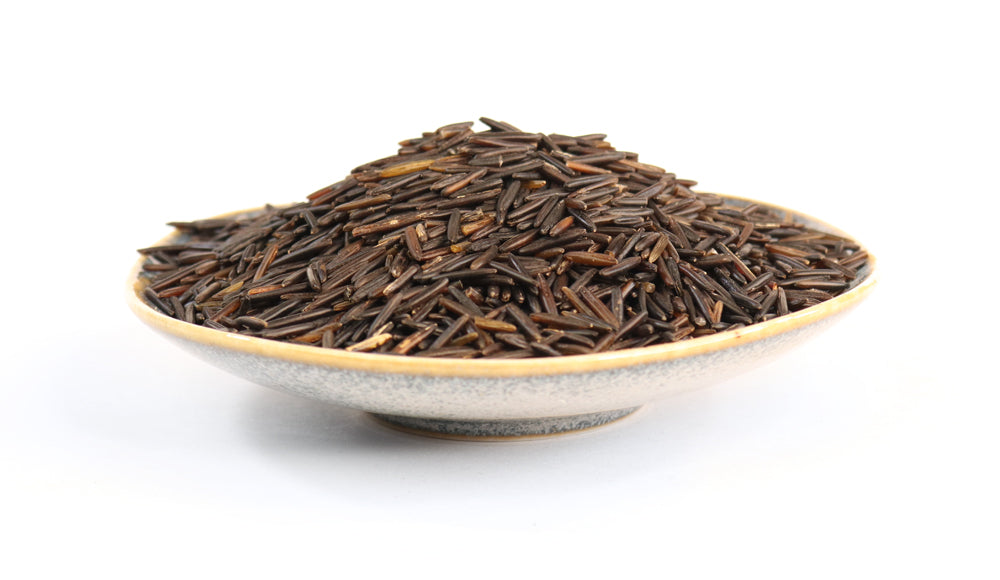 Our Organic Wild Rice is grown and processed in the USA.
Wild rice is an aquatic grass seed in the cereal grain family and is one of the most nutritious whole grains available. Its properties are much like oats and wheat. It is high in protein and low in fat.
With it's smoky, nut-like flavor and chewy texture, wild rice is delicious in stuffing, as a side dish, or featured as a cold salad mixed with cranberries, nuts, feta cheese and other grains.
To cook Wild Rice: combine 1 part wild rice and 3-4 parts liquid. Bring water to a boil, add wild rice and cook for 35 to 40 minutes or until texture is soft, not squishy. Drain off excess water. Use plenty of water. Unlike regular rice you don't want to cook the water out.