Scones are great for the times around the holidays when family or friends are together and breakfast or brunch doesn't happen at the same time for everyone. These scones are pretty special—they have white chocolate chunks, dried Oregon cranberries and Oregon hazelnuts. They are perfect for the rainy mornings in Oregon during the cold & wet season. Enjoy them with your coffee, tea or other morning drink.
INGREDIENTS
Scones
8 tbsp Organic Butter, grated
2 ¾ c Organic Spelt Flour
¼ c Confectioners Sugar
4 tsp Baking Powder
¼ tsp Sea Salt
zest of half a Lemon
½ c Organic White Chocolate Chunks
1 c Organic Dried Cranberries
½ c Organic Hazelnuts, chopped
1 c Organic Milk, cold
2 tsp Organic Milk
1 Organic Large Egg
Sugar Glaze
1 c Confectioners Sugar
3-5 tsp Organic Milk
INSTRUCTIONS
Set the oven to preheat to 400°F.
Grate butter using a coarse grater and return to freezer. The frozen butter will resist melting when you combine it with the flour and keep the scones light. Give the butter 15 minutes in the freezer while you ready the dry ingredients and the oven heats up. Now is a good time to mix the glaze too. For the glaze, mix the confectioners sugar and three to five teaspoons of milk together until smooth, set aside.
Combine: Whisk together the flour, sugar, baking powder, salt and zest.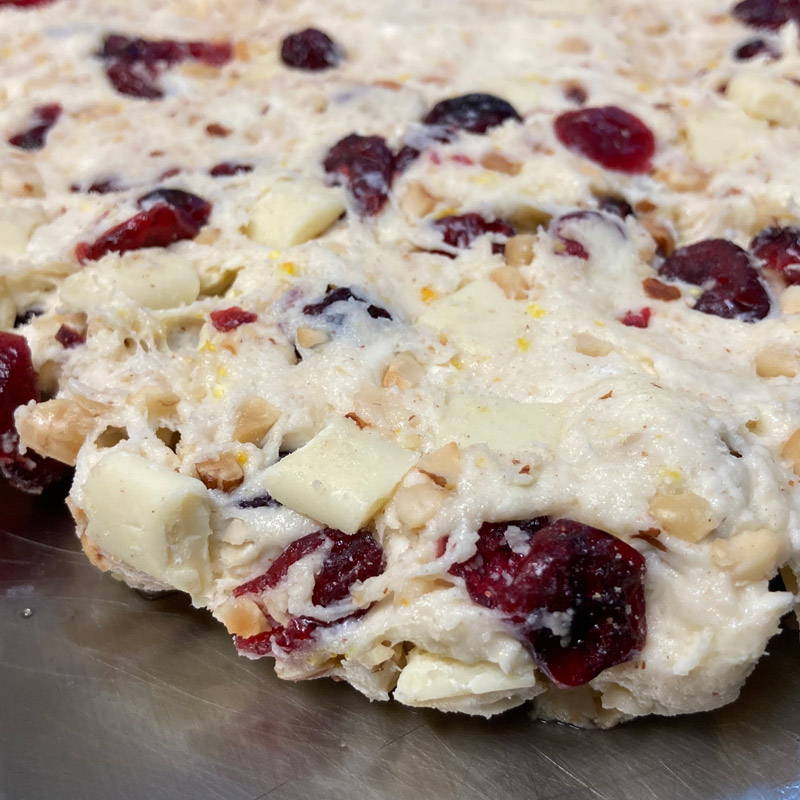 Once mixed, cut in the cold grated butter straight from the freezer using a pastry cutter or a pair of butter knives until the butter is in very small pieces. This should only take a minute. Working fast here will keep the butter from softening up. Add one cup cold milk to the butter and flour mixture. Just get the mixture even, nothing extra. Then mix in the chocolate chunks, cranberries, and the chopped hazelnuts until you have a consistent sticky dough.
Turn out the dough on to a parchment sheet and with a wet fingers push out dough to a one inch thick disk. With a knife, cut into eight triangles. Slide baking sheet on to a sheet pan.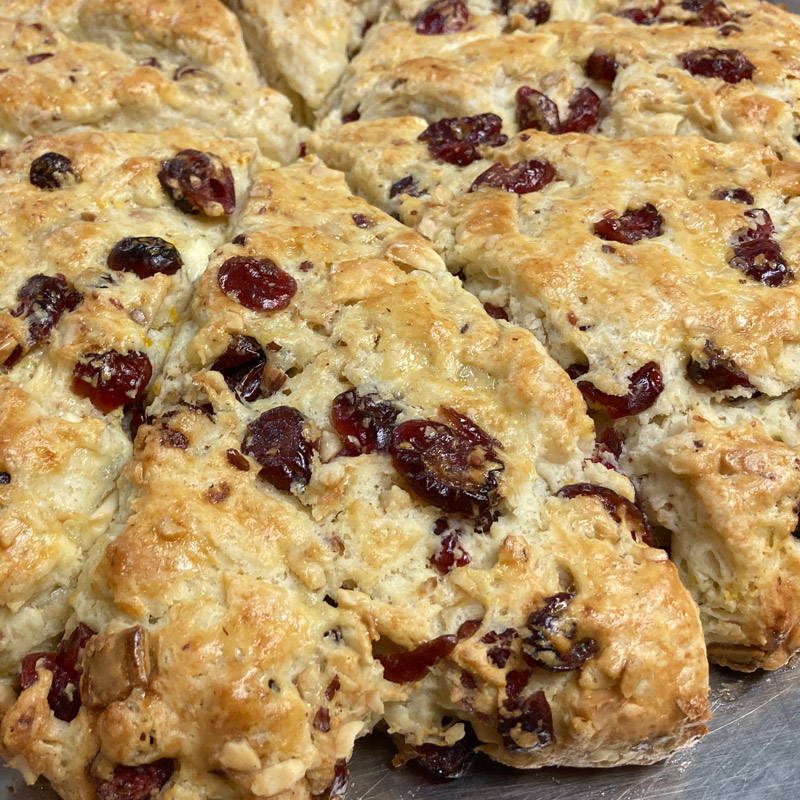 Whisk the egg with two teaspoons of milk and brush the tops of each of the triangles. Place the baking pan with the scones into the oven on the middle rack. Bake for 16 minutes or until the scones are just beginning to turn golden. Remove from oven and let cool for 15 minutes.
When the scones have cooled. Glaze and serve immediately or display until the folks are ready.
---
by: Paul Adkins
Marketing & Brand Coordinator
Paul makes these scones for the birds regularly. He likes his scones cruncy on the outside and soft on the inside.